at Burning Platform:





T4C says:

My son's been in the UK since a little over 10 years. He's never felt at home in the US but once arriving in England via Europe he felt like he opened the door to his own home after a long journey. Of course it helped that he had a network of friends already established when traveling through Europe.

2004. Arrived in Munich as the World Cup was taking off. Was smoking a doobie whilst walking down the street. Cops tapped him on the shoulder and said "Wir möchten, dass Sie zur Polizeistation zu kommen."

Once in the police car he asked if he could have picture taken with them. They obliged. He was let go after an hour or so and told not to smoke weed out in public again.

Son: "Ich werde nicht. Danke."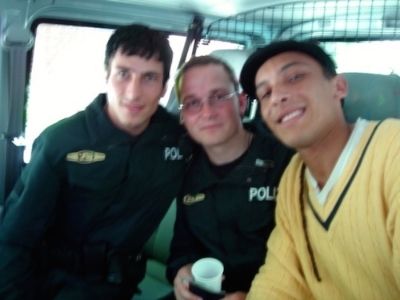 If only our cops were so good-humored.

25th January 2015 at 6:59 pm

Steve Hogan says:
Having visited countless shanty towns and barrios throughout Latin America and Asia, I can vouch for the author's view. Poor people in the Third World are far happier than Americans and seem to have a richer appreciation for the things that really matter.
I suspect that the economic collapse on the horizon will test America's resolve. Americans have convinced themselves that they're somehow exceptional and indispensable. We're going to find out soon enough whether this is true.
25th January 2015 at
8:52 pm
Bea Lever says:
If you left this country, where would you go?? This time will be different as the shit will hit the fan globally. The EU, ME, SA, US and Canada etc will all be in the shitter at the same time.
On the other hand, the LAST place I would want to be is New York or New Jersey when it all comes down, so I agree with your consideration of relocation. Do you have the skills to make it in a remote area? When I say remote, I mean remote.
25th January 2015 at
9:20 pm
Billy says:
I actually sat and waded through this tirade…
Long Duck Dong or whatever his name is, can go suck a bag of hot dicks…. he makes a couple good points, but then just goes off his fucking axle…
I'm tired, it's late… I might tear old Long Duck Dong a new ass tomorrow… might not… we'll see.
25th January 2015 at
10:35 pm
.